Lori Anderson, DDS and her Anthem dental team work hard to ensure patients are comfortable in our practice from the moment they arrive, but we understand that some patients need a little extra help relaxing during treatment. For these patients, those who have difficulty numbing with local anesthesia alone, those with sensitive gag reflexes, or who need extensive treatment, your sedation dentist in Anthem may recommend our best form of sedation dentistry: oral conscious sedation.
Conquer Your Fear with Sedation Dentistry
As mentioned above, there are many patients that avoid visiting their dentist for a variety of reasons. However, the longer you avoid seeing your dentist, the more your smile will need professional assistance. Although it's a known fact that your teeth and gums need professional care at least twice a year, many will avoid seeing their dentist for these reasons:
Claustrophobia. Many patients may be fearful of the feeling of confinement that may come with having to sit in the dental chair for long periods of time—especially if you need to receive multiple procedures or treatments.

Past negative dental experiences can really ruin the future of someone's dental care and the relationships they may try to have with future dentists.

Old tales of past painful experiences can be brought down from generation to generation, making a dental visit sound scary rather than helpful or pleasant.
Whatever your reason, you can trust that our office will help you relax to receive the dental care that you need.
How Oral Conscious Sedation Works During Your Appointment
Are you ready to break your cycle of dental phobia? Your local dentist offers oral conscious sedation for those who can't receive the dental care their smile truly needs. Oral conscious sedation is a mild form of sedation dentistry that allows most patients to drift off into a gentle sleep while their appointment takes place.
By taking a pill at the time of your appointment, patients are able to completely relax and receive the dental care they need free from anxiety, fear, or anticipated pain. As the name suggests, patients do not completely lose consciousness, but many do drift off into a peaceful sleep. In most cases, patients report not remembering any of their appointment, but they are still able to respond to questions and communicate with the dentist when prompted.
Because the sedatives take effect prior to treatment and can remain in patients' systems up to 24 hours after treatment, a trusted friend or family member will need to drive patients to and from our practice and monitor their recovery. If you have questions about oral conscious sedation, sedation dentist Dr. Anderson and her team are happy to help. Contact us to find out more or schedule an appointment
Each patient under oral conscious sedation is just required to take a small amount of sedative orally and within an hour, you're relaxed enough to allow your dentist in Anthem to work on your teeth. By the time your appointment is over, you'll not only have cleaner, brighter teeth but you'll also hardly remember sitting down in the dental chair!
Get the Dental Care Your Smile Needs Today
The bottom line is that everyone needs professional assistance taking care of their teeth if they want their smile to last through years or wear and tear. Anderson Dental is here to help you do that, even if you're not completely ready to relax in the dental chair by yourself. With oral conscious sedation, you can rest peacefully while you receive:
A comprehensive dental exam.

A deep, professional cleaning of the entire mouth and gum line.

A developed, personalized treatment plan to optimize your oral health.

Any other specialized services that you've discussed with your dentist.
When was your last local dental visit? Get in contact with us! We can create a positive dental experience from the moment you step into our office.
Meet Your Award Winning Dentist
The Proof is in Our Patients

Dr. Anderson has superior talents and is at the top of her field. I feel she truly cares about me, the patient, who has had a lot of dental work over the last 60 years and who can recognize outstanding work. Thank you Doctor Lori Anderson for being so awesome.
Dr. Anderson and her staff are always so kind, professional, and welcoming. There is no other dentist office that compares!
Dr Anderson is knowledgeable, thorough, kind & gorgeous!! She has the best staff too! I can honestly say I love going to my dentist!
MOST INSURANCES WELCOME AND MAXIMIZED!
Contact us and schedule your visit today. 
Most Insurances Welcomed and Maximized
We'll make the process of paying for your dental care as simple as possible! Our office accepts a wide variety of insurance plans, and we're always happy to file your claim for you so that you can be sure to receive the maximum benefits available to you. Anderson Dental is in network with Delta Dental, Cigna, Metlife, Aetna, Guardian, Ameritas, Principal, United Healthcare, United Concordia, Assurant, GEHA, Careington, Humana, TDA, BlueCross BlueShield and more! Call us today to find out how we can maximize your insurance plan!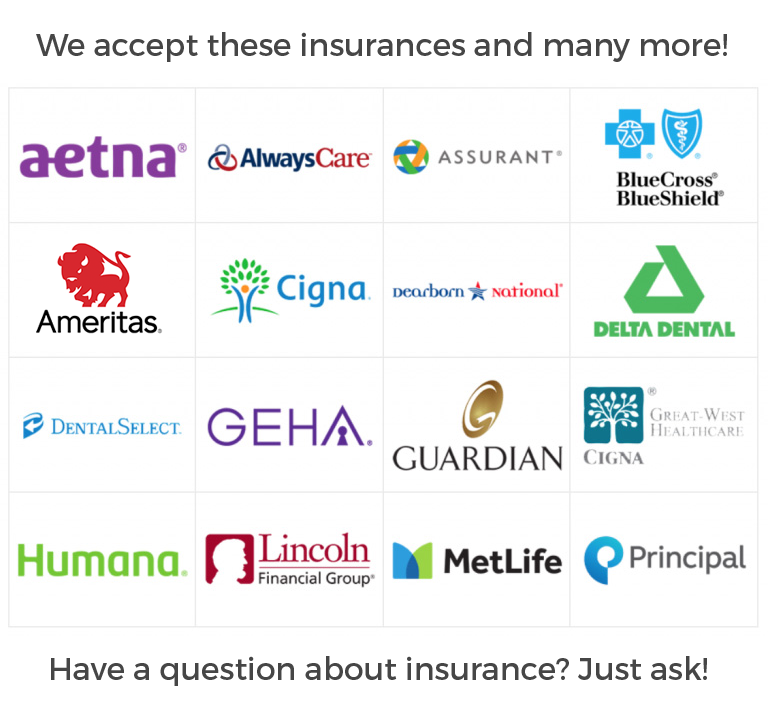 OUR LOCATION Anderson Dental
| | |
| --- | --- |
| Monday | 8:00 AM – 6:00 PM |
| Tuesday | 8:00 AM – 6:00 PM |
| Wednesday | 8:00 AM – 6:00 PM |
| Thursday | 8:00 AM – 6:00 PM |
| Friday | By Appointment Only |
| Saturday | By Appointment Only |
A Full Array of Cosmetic Dentistry, and General Dentistry Options.
Open Daily For Your Convenience!
A State-of-the-Art Dental Facility to Best Serve Our Patients in Phoenix, AZ.